epik_noodles
So... here we go...
Now... we were hungry from all that wandering, so we decided to leave the apartment again to eat at a restaurant. We got to a fancy Taiwanese restaurant and ate a lovely dinner. After eating, we went back outside to look for a bus that would take us to our apartment. The problem is... we didn't remember which side of the road we got off at. Lost again?! But we just knew that we needed to get on bus route 204. We took a guess and hopped on a 204 bus. If you didn't notice, we have absolutely no understanding of the Taiwan bus system, which is why we get lost all the time.
After breezing through multiple stops we didn't recognize, we both sighed and assumed the bus would loop back after the final stop. The bus continued to drive on and the seats were emptying. The bus kept going further and further into a dark and unfamiliar part of town. On a poorly lit street, in the middle of nowhere, the bus driver stops the bus suddenly, turns in his chair to look at us (the ONLY people left on the bus) and says something in Chinese. In all my confusion because I have no idea what is going on, I turn to Miki and say "
I think he's talking to us, what is he saying?!
" At this point, we're terrified.
This is our awkward conversation-
Bus man: *
repeats what sounds like a warning in Chinese*

Miki: *
shakes head in confusion*

Me: "whaaa?!" *
head tilt
*
Bus man: *
repeats again
*
Me: "I think he's telling us this is the end of the line... get off now"
Miki: *
asks in Chinese
* "can you speak English?"
Bus man: *
shakes head rapidly
* "11...."
Me and Miki: "huh?!"
Bus man: "11..." *
points outside door
*
Me: "I think he really wants us off the bus"
Me and Miki: *
both get up and walk towards door
*
Miki: "oh yeah,
all buses stop running at 11:15 pm
, no later" (it's 11:30pm)
Bus man: (notices our sad confused faces) *
rubs temples roughly*
"where?"
*shuts bus door*
The bus man points back at the chairs, signaling for us to sit back down. He then drives into the busyard and a fellow employee hops onto the bus to empty the fare collector. The other man chuckles and asks what I'm guessing "why are there still people on this bus?" We assumed he wanted us off at that point, but... he drove out of the busyard and stopped the bus again. I am then screaming in my mind (OH NO!!!! HIS SHIFT IS OVER HE WAS SUPPOSED TO GO HOME AFTER GOT TO THE BUSYARD!!!!)
The bus man then walks to the center of the bus where the route map is and points to it asking where we need to go. We point to one of the train stations on the route map, the bus man then kneels down and goes silent as he looks over the map not understanding what we want. Miki then remembered that she had a sentence prewritten in Chinese in her notebook that says, "please take me to the nearest train(MRT) station." She showed it to the bus man and he nodded. He then went back into the driver's seat and sat there for 3 minutes with his face buried in his hand. After he thought to himself, he started the bus and drove off to restart the route.
After passing three stops, people started signaling to get on the bus (here, you actually need to wave your hand if you want to get on, if not, the bus will pass you). It's midnight and the bus is half full. (no buses are running at all at this time). Me and Miki are talking to eat other,
"wait a minute, he's willing to drive the full route and drop off all these people, even though his shift is over, for the sake of getting us back safely?!"
At this point, we feel very horrible about ourselves. Because of us, he's doing something he shouldn't be doing. He is going to waste 3 hours of unpaid time because of us. He is the nicest man we've ever met since arriving in Taiwan... I wanted to cry right there on the bus (but I couldn't, instead, my chest hurt during the ride), I'm crying now though, that bus man was too kind to us. The bus does stop in front of our apartment, but we wanted him to drop us off at a train station because we didn't want him to drive any further(we assumed he would turn back), but with all those other people, he had no choice but to drive the entire route. When got close to a train station he called us to the front of the bus to make sure we'd get on the train. He gave us a weak smile and we both thanked him. We got off the bus and went into the station, then boarded the train back to the apartment.
We got off the train and continued walking down Xinyi Rd (the street in front of our apartment). The station was a few blocks from our apartment, so the walk wasn't bad. The 204 bus is a route that drives down Xinyi Rd. It's 12:30 am, his bus is the only one on the street. As we walked to our place, we had just reach the front of our apartment. I turn to look at the street... and it felt as if my heart had shattered into a million pieces as I saw that same bus man driving that 204 bus right in front of us. I really wanted to cry, what bad timing that we'd meet one last time. Bus man... we never got your name, but we will never forget you.
I wanted to keep his face in my memory, so I did a quick doodle of what he looked like. It's a general idea, but it's close, I still need to revise it.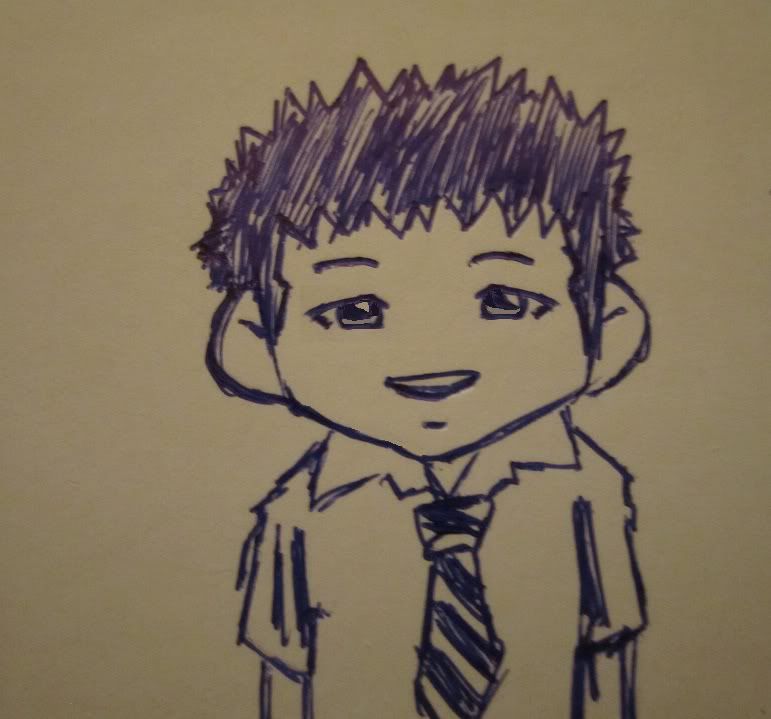 We need to find this man and thank him properly!!!
I need to redraw this more accurately first... I curse my chibi skills.
The end was no joke, we did see bus man in front of our apartment, we didn't think he'd actually drive up that far.