epik_noodles
Yeah, there was an earthquake in Taipei, Taiwan at 6:18pm on June 19th (today).
The epicenter was on the eastern coast, but I totally felt it!
I was sitting on the floor of our apartment, attempting to cool off under the a/c. Miki on the other hand was lounging on the bed.
I was staring at the ceiling, then suddenly...
*rumble* *rumble* rumble*
the floor began to shake side to side under me and I fell over. I screamed, "WHAT THE HELL WAS THAT?!" Miki turns from the bed (unfazed) and asks "what's wrong?" I yelled back, "the entire apartment just shook, you didn't feel that?! wait but you're on the bed." Then Miki said, "what are you talking about? the apartment is not shaking."
*rumble* *rumble*
Miki then says, "... nevermind, I just felt that last one." I finally scream "EARTHQUAKE!" Me and Miki stare at each other wide-eyed... but nothing happens.
Still doubtful, Miki says, "it was probably a thunder boom that shook the building." (as it was raining before we arrived at our apartment) I then protested, "there's no way a mere thunder boom can shake a 14-story apartment!" Then of course we get on the internet to check if it was really a quake.
Fortunately I found a Taiwan government site that has seismic activity records.
And here's what I pulled up: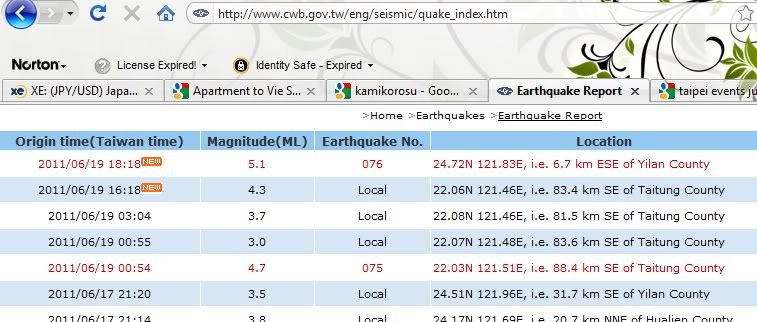 Ha! Extreme proof that it totally was an earthquake!
It was a 5.1 mag.
That was the first earthquake I've ever experienced conscious.
Most earthquakes back in Chicago occur at night for some weird reason.